Racial Justice
Anti-Racism Group
UUC's anti-racism group formed following a 2017 sermon by Dr. Michele Deramo of Virginia Tech entitled White Allies Humble Path. The discussions are intended to provide a place where topics related to race can be discussed safely and honestly in order to help promote a greater sense of inclusion in our community and the wider society. Each meeting explores ways in which white people can be effective as allies to people of color as well as actions that are not helpful. Contact Administrator to be added to the group listserv.
8th Principle Adoption
This past year, the Anti-Racism Group worked to educate the congregation about the 8th Principle, and it was approved and adopted by the congregation at our Annual Meeting in June. The 8th Principle states:
We, the member congregations of the Unitarian Universalist Association, covenant to affirm and promote: journeying toward spiritual wholeness by working to build a diverse multicultural Beloved Community by our actions that accountably dismantle racism and other oppressions in ourselves and our institutions.
Resources
View the reading list of materials (includes articles, podcasts, and videos) that have been discussed to date.
This diagram, furnished by the UUA, helps one to consider how our culture is one of white supremacy.
Living the Pledge Workshop
First Unitarian Universalist Church of Richmond developed the Living the Pledge workshop in which participants learn about and take a pledge to end racism, a personal commitment to work on oneself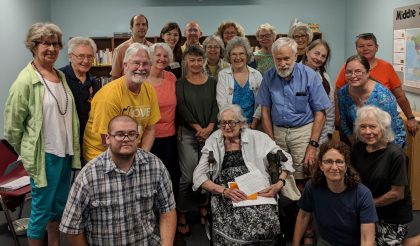 and with others to address racism in all its forms. The 2-part workshop was first held at UUC in December 2017 and again offered in the spring of 2018.
Participants developed our own New River Valley Pledge signed by most at the workshops and a Covenant.
Additional workshops will be held at UUC in the future. Watch for more information.
Congregation Votes to Support BLUU, Black Lives of Unitarian Universalism
At our annual meeting in June 2018, the congregation voted to support BLUU with a donation of $2050 ($10 per member) to be fulfilled by June 2019. The BLUU Organizing Collection, formed in July 2015, is committed to:
Expanding the power & capacity of Black UUs within our faith

Providing support, information & resources for Black Unitarian Universalists

Justice-making and liberation through our faith
UUC members are committed to all of these goals, with actions led by our Anti-Racism discussion groups.
UUA Common Read Book Discussion Groups
Justice on Earth: People of Faith Working at the Intersections of Race, Class, and the Environment by Manish Mishra-Marzetti and Jennifer Nordstrom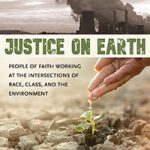 This book explores the ways in which racial justice, environmental justice, and economic justice are intertwined. Those on the margins are invariably those most affected by climate disaster and environmental toxins. The book asks us to recognize that our faith calls us to long-haul work for justice for our human kin, for the Earth and for all life. It invites us to look at our current challenges through a variety of different perspectives, offers tools to equip us for sustained engagement, and proposes multiple pathways for follow-up action.
UUC members participated in a discussion of this book in January and February 2019.

Centering: Navigating Race, Authenticity, and Power in Ministry
A joint project of the Committee for Antiracism, Anti-oppression, and Multiculturalism of the UUMA and Skinner House Books, Centering is the first book to center the stories, analysis, and insight of Unitarian Universalists of color offering their religious leadership.
UUC members participated in a discussion of this book in January and February 2018.