Upcoming Services

How do we experience beauty? What role do our senses play in crafting our relationship with beauty? Is beauty only in the eye of the beholder? Together we'll explore our notions of beauty.
1/2 Plate Donation
Each Sunday, UUC donates 1/2 the collection plate to local charities and UU-affiliated organizations. This week's recipient is the Virginia Tech Vet School's Compassionate Care Fund which helps support medical care for animals when the owner is unable to fully pay for the services.
Featured Events
UUC on Friends of the Library Garden Tour!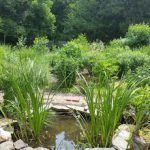 We are very excited that our beautiful grounds will be one of the stops on this year's Friends of the Library Garden Tour on Saturday, July 6 from 8:30-5:30. All proceeds benefit the Montgomery Floyd Regional Library. Want to help – sign up for a 3-hour shift to help people find their way on the path via this link.