Upcoming Services

Join us at our virtual service via this link. Mother's Day calls us to remember stories of mothers, but we know that one need not be a mother to nurture and support others. We will consider all kinds of mothering. We will … read more.
1/2 Plate Donation
Each Sunday, UUC donates 1/2 the collection plate to local charities and UU-affiliated organizations. This week's recipient at our virtual service is the New River Valley Diaper Pantry which provides diapers for infants, the elderly, and disabled.
Donations can be made via our Vanco mobile app (Give Plus+ or Give+), our Text to Give option, or from our website. Check out our Give webpage for more information on these options.
Featured Events & Updates
Community Conversations: Weaving the Social Fabric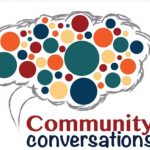 Join the conversation on Sunday, May 16 at 11:30 AM via this Zoom link. Many people sense that something is broken in society: surveys show about half of young adult Americans are lonely; opioid addiction, suicide, gun violence, ethnic tension and depression have been rising; we face rapid change from a globalized economy, cell phones and social media, and uncertainty about our future health and wealth. Our social fabric seems to be shredding. Others observe that the social fabric of our communities and nation was never really woven to include everyone in the first place. Yet, there have been times when people looked past their surface differences and came together as neighbors to support each other. How might we work together to build connections that allow everyone to feel recognized, respected and valued? Led by Rev. Jamie McReynolds.
UUC Building Closed: At this time, in-person gatherings are NOT permitted in our building. However, up to 25 people are able to gather together in our outdoor space, but the 6-foot distance between people must be maintained. Worship services and many groups and committees continue to meet via Zoom. Check the website and calendar for information on events and the Zoom links and updates to this information. Be sure to contact Lisa to schedule an event on our grounds or via Zoom.