Upcoming Services

Join us for our dual-platform service either in person or via this Zoom link. While we may be living and acting with the best of intentions, we still may end up hurting others. We'll explore the relation between intention and impact and how to navigate our … read more.
1/2 Plate Donation
Each Sunday, UUC donates 1/2 the collection plate to local charities and UU-affiliated organizations. This week's recipient is the Montgomery County Emergency Assistance Program (MCEAP) whose mission is to assist Montgomery County residents in maintaining their households and restoring their self-sufficiency. This can be achieved by serving the immediate, emergency, and temporary needs of low-income, unemployed, elderly or handicapped individuals and families.  
Donations can be made via our Vanco mobile app (Give Plus+ or Give+), our Vanco Text to Give option, or from Vanco online.
For information on all of these options, go to our Give webpage. 
Featured Events & Updates
Community Conversations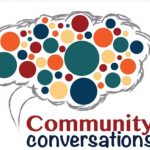 Join us on Sunday, January 23, 11:30-1 PM via this Zoom link as we hold a conversation on Abortion: For, Against, or Somewhere in Between. In most situations, abortion elicits an intense emotional response. In the U.S. the conversation on abortion generally centers on whether you are "for" or "against" it and very rarely explores personal narratives, what we believe about abortion as a decision, what the procedure entails, or how abortion affects an individual's reproductive and mental health. Engaging in an honest and vulnerable conversation on abortion provides an opportunity to explore the depths of our beliefs about sex, life, death, agency, and parenting. It gets at the very root of what we care deeply for in life and opens the door to finding potential common ground. Led by Rev. Jamie McReynolds.