Message from Our Minister
Welcome to our website here at the Unitarian Universalist Congregation. I'm glad you are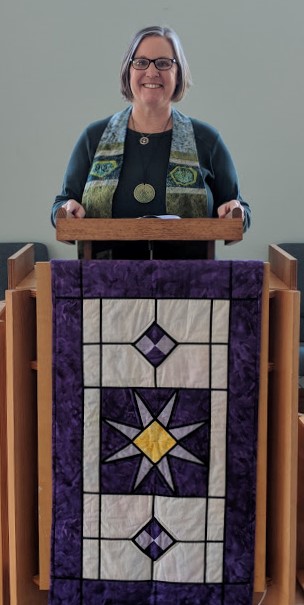 checking us out online.
Message for August 2022
It's hard to believe that summer is nearly over and that many of us will be returning
to the routines of the school and the church year. It's a bittersweet time for many,
knowing that some of the special fun of summertime will soon be over, but also
anticipating the new beginnings that happen in September — new teachers and
classmates, new students, new opportunities. At UUC, we'll be entering into that
familiar transition between summer and autumn, but we'll also experience some
novel changes due in part to the new staff members Administrator, Ericka Kelly and Director of Lifespan Faith Development, Rachel Craine, but also due to the everchanging realities of life in the time of COVID-19 and its evolving variants. And next month we'll be joined by Ministerial Intern Anna Tulou. It is an exciting time for UUC.
As I write, Montgomery County has moved up to the High / Red Community COVID level, and the Board has voted to require masks in the building until we are back down to the Medium / Yellow. This is disappointing, but we are grateful for all the volunteers—the Worship Associates, Lucas Machi and AV volunteers, and song leaders Jennifer Thomas and Wayne Neu—who make dual platform worship enriching for all who attend, whether at UUC or from home. As you think about your connection to UUC in the coming year, please consider lending your time and talent on Sunday mornings by applying to become a worship associate. You might also want to join the choir, which will begin rehearsals on August 17 at 7:00 pm.
August worship will bring some wonderful guest speakers to give us new perspectives and will culminate in our annual Water Ingathering Service. But this will be an Ingathering like no other! As always, everyone is asked to bring a small amount of water that they've enjoyed over the summer – from lakes, rivers, oceans, pools, even mud puddles or faucets. Everyone can participate, whether they attend in person or on Zoom, by sending a photograph to me ahead of time that we'll use to create a visual representation of our community. This year we'll also be celebrating the start of the school year with a Blessing of the Backpacks and Blessing RE teachers. We'll cap off this celebration by going outdoors for more festivities involving food and water fun. Those who feel more comfortable gathering outdoors than in are welcome to come to the grounds after the service to join us. Please help us create this new tradition of an Ingathering Extravaganza by attending or contacting me or Rachel Craine to help plan the event.
Of course, all our plans will be dependent on the COVID Community Levels. Our new routine is to be flexible and make modifications based on how we can gather most safely AND continue to create compassionate community. As always, we ask for patience as we make our way forward. Please look for and read Info for In-person and Virtual Sunday Service emails to keep up to date on what to expect on Sunday mornings and twice-weekly UUC News & Updates emails to find other opportunities to engage in this vibrant congregation.
Looking forward to a fun and faith-filled fall,
Rev. Pam