Message from Our Minister
Welcome to our website here at the Unitarian Universalist Congregation. I'm glad you are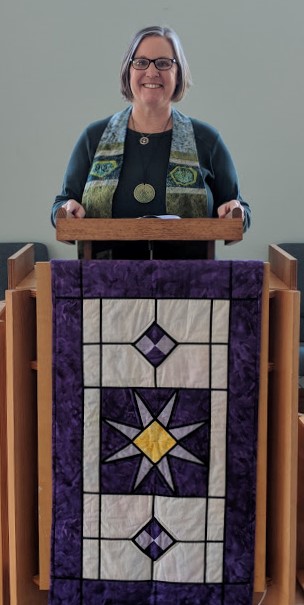 checking us out online.
Message for May 2023
The month of May will be a time of celebration as the congregational year winds down. We'll begin by celebrating the transitions of our young people, with the youth in our Coming of Age program sharing some of what they've learned this year about their beliefs and being welcomed into the high school youth group. The YRUU youth will also share their experience as Young Religious UU's by sharing music and traditions of The Mountain, the retreat and learning center they've visited, and saying goodbye to the graduating seniors with the Bridging Ceremony into young adulthood. We are so blessed as a congregation to have youth and young adults who stay connected to this community, encouraging our faith and hope in the present and the future with their ideas and enthusiasm.
The next Sunday, Mother's Day, we'll hold a Child Dedication ceremony. While Unitarian Universalists don't often participate in the ritual of baptism, we do take seriously our commitment to parents and children to help nurture their young lives, helping them to grow with the support and care of the whole community. If you have children you would like dedicated, please contact Rev. Pam, whether you will be attending the service that day or not. If there is enough interest, we'll have another child dedication in June.
The third Sunday in May marks what we hope will be a new tradition – our celebration of the uniquely Unitarian Universalist ritual of the Flower Ceremony while the children are still coming on Sundays for their RE classes. This marks the 100th anniversary of the first Flower Ceremony, introduced by Rev. Norbert Čapek to his congregation in Czechoslovakia. He asked each of his congregants to bring a flower to the Sunday service, which they put in a vase to create a beautiful bouquet. At the end of the service, everyone takes a different flower home. His wife Mája brought this ritual to the Unitarian Church in Cambridge, Massachusetts in 1940, and it has become a beloved tradition to UU congregations ever since. We want all our children to experience the beauty and joy and remind everyone to bring at least one flower per person to the service. We'll also celebrate the gift of service of all those who volunteer in our RE program that day.
And finally, we'll mark Memorial Day on the fourth Sunday. This will be a multi-generational service on this unofficial first day of summer. The next week, the children will start services in their classes, using Legos to explore their Unitarian Universalist identities – Lego UU.
That next week, June 4th, we'll celebrate the newest members with a New Member Recognition during the service. If you feel that you have found your spiritual home and want to join, please contact Rev. Pam. New members who want to vote at the annual Congregational Meeting after the service will need to sign the book by May 21st. We will be electing new executive board members and voting on the annual budget.
As I write this message, we have just celebrated the official end of our pledge drive. Thanks to the generosity of those who pledged and increased their pledges, we have $327,432 toward our goal of $376,000 (only 87%). The board and finance committee will meet to make cuts from the proposed budget on May 10th, so there is still time for folks to make a pledge or increase their pledge by emailing our administrator, Ericka Kelly. We appreciate the generosity and dedication of all those who participated in stewardship this year, particularly the committee led by Carol Kern.
We have much to celebrate as a congregation. We hope you'll join in these celebrations in the month ahead.
With gratitude,
Rev. Pam