Message from Our Minister
Welcome to our website here at the Unitarian Universalist Congregation. I'm glad you are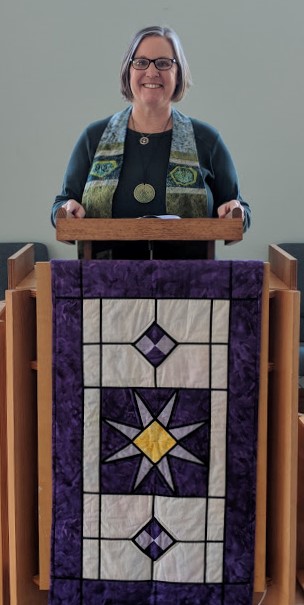 checking us out online.
Message for December 2023
Welcome Winter!
It was 17 degrees this morning when I woke up, which tells me that no matter what the calendar or sky says, it is winter. The nights are longer, the days are shorter, and the weather is colder. Winter is not my favorite season – I favor the new growth of spring and the spectacular colors of autumn – but I've come to value winter in ways I never did when I was younger.
Winter can be a time of rest and reflection, coming in from the cold and curling up with a hot mug and a warm blanket. I used to call winter my "Persephone phase" – after the Greek goddess who spent winter down in the underworld – because I became a bit of a hermit during the winter. But especially as the holiday season approaches, with so many opportunities for socializing and service, we can also get pulled into a whirl of activity. The darkness is punctuated with colorful lights and decorations and the stillness with familiar holiday tunes.
As I anticipate the months ahead, I'm mindful that we can choose which side of winter we most want and need in our lives – coziness and calm or fun and frolicking.
As always, you can find much of what you need and want here at UUC. On the fun and frolic side, we'll kick off December with a Holiday Fun Night on Saturday, December 2nd – with cocoa, cookies, crafts, and Christmas classics. We'll celebrate the return of an annual Holiday Concert put together by our fabulous pianist, Jared Gibbs, on Saturday, December 16th. And we can all get involved in this year's multigenerational, no-rehearsal play on Sunday, December 17th – this year with an interactive retelling of the nativity story. These are in addition to our many Food & Fellowship and Lifestage groups that meet weekly or monthly.
On the cozy and calm side, we'll have Sunday services exploring the Gift of Mystery in our lives, including the day-to-day moments of wonder and those special holy times. With Christmas Eve on a Sunday this year, we'll dedicate the morning service to the mysteries of the Solstice and the evening service to Christmas. We'll also have our usual meditation and conversation groups.
Check out the online calendar and the Opportunities to Serve and Connect to find times and places to gather with other members of the UUC community for fun and frolic AND coziness and calm. Be mindful that some activities might not happen the week between Christmas and New Years.
I am especially aware of the importance of making intentional choices about what we need and want in our lives given my recent (and first!) bout of COVID. My usual inclination to power through and do all the things, even when I'm not feeling 100%, was no match for my COVID symptoms and the realization that I needed rest and isolation to get myself well and to keep from spreading the virus. I'm grateful that I had the ability to stay home, watch Netflix, and call on others for help, to do the things that I couldn't do. I was sad to miss out celebrating Thanksgiving with friends but grateful for the turkey soup dropped off on my doorstep. I come away from COVID with a reminder that I shouldn't have to be sick to get the rest I need, to ask for the help I need, and to accept others' generosity. So my invitation to us all is to be intentional in the months ahead, assessing our own needs and our ability to help others, giving ourselves the gifts of quiet AND celebration.
Welcome winter! May we accept all its gifts,
Rev. Pam