Message from Our Minister
Welcome to our website here at the Unitarian Universalist Congregation. I'm glad you are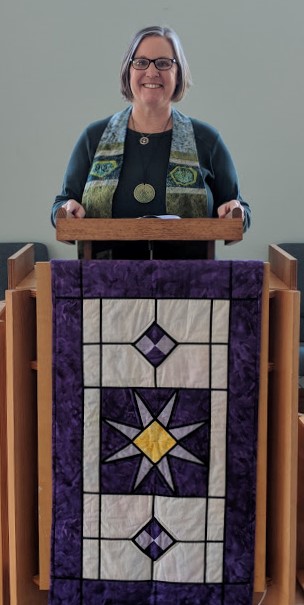 checking us out online.
Message for November 2022
"Change is the only constant in life." So said the Greek philosopher Heraclitus, and this month we'll be exploring change as a theme in our worship and small groups. Change is certainly in the air as we watch this amazing season of autumn colors. Half the trees have lost their leaves, yet some remain a mixture of green and gold, orange, yellow, and red. We are in the midst of change. But even as I revel in the colors of the trees, I feel some sadness knowing that it will end, and winter will begin. And there will be new beauty – stark trees against a backdrop of gray skies or white snow – and all the festivities of December.
Yes, change is constant and sometimes difficult, especially when it comes to beloved aspects of our lives. Especially when those changes seem out of our control. And yet, without change we cannot grow. Unitarian Universalism is undergoing some fundamental changes that have been difficult for some, exciting for others. The Unitarian Universalist Association has charged a commission to revise Article II of our bylaws – the part which contains the Seven Principles and Six Sources that you will find in the front of our gray hymnal (or via this link)– Singing the Living Tradition. The principles have become a touchstone for many of us, a way to explain to people what Unitarian Universalism is. How can we even think about changing them?
And yet, ours is a living tradition, one that responds to new knowledge and understandings of our world. How could we not consider changing them? After two years of work, the commission has unveiled a DRAFT of new Article II that looks very different from the current language. Instead of principles, it includes seven values and the covenants which come out of them. The central value is Love which "inspires and powers the passion with which we embody our shared values" of Justice, Generosity, Evolution, Pluralism, Equity, Interdependence. It is really different! The Commission invites us all to read the new language with open hearts and minds, recommending that we "read it using one of the practices [they] have started following in [their] work:
Read it the first time to observe how it makes you feel.
Read a second time, observe what it makes you think.
Finally read it a third time before thinking about any suggestions.
Once we've read them, we can join feedback sessions to share our ideas with the commission. I've already signed up for a session and encourage all of us who care to do the same.
Even if you don't care about UUA Bylaws, the Commission's practice of exploring change with such deliberation – observing how it makes us feel and what it makes us think before we make judgements about the change – offers practical wisdom. In the month ahead, as we explore Change in our individual and collective lives, let us do so deliberately. Let us keep in mind the words of George Bernard Shaw, "Progress is impossible without change; and those who cannot change their minds cannot change anything."
In faith,
Rev. Pam