Message from Our Minister
Welcome to our website here at the Unitarian Universalist Congregation. I'm glad you are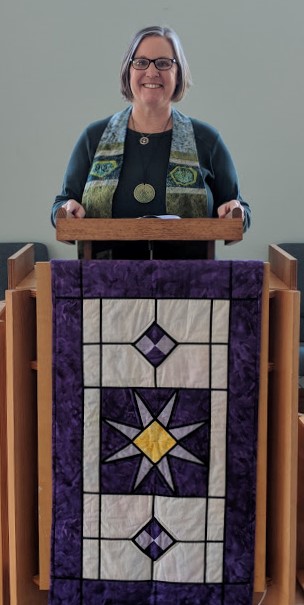 checking us out online.
Message for October 2021
Each month, our worship services and small groups consider a theme from the Soul Matters Sharing Circle, as do many other UU congregations across the continent. Once a month, members of our small groups gather to share their experience of the spiritual exercises and questions, and I meet with other ministers near and far to discuss how we are approaching the themes. I love knowing that we are part of a much larger conversation between and among Unitarian Universalists.
Some of you may have noticed a difference in the themes for this year. In years past, we asked ourselves "What does it mean to be a people of —-" whatever the one-or two-word theme was that month, be it Renewal, Imagination, Commitment, etc. This year's themes are expressed using nouns and verbs. Not just Possibility but Embracing Possibility. Not just Relationship but Cultivating Relationship. We're asking ourselves not just to THINK about the themes, but to DO something with them.
The difference may seem subtle but is significant. It acknowledges that spiritual and ethical growth requires active engagement rather than passive reception. Consider this month's theme – Cultivating Relationship. To cultivate originally meant to prepare and use land for crops or gardening but has since expanded to other contexts – like relationships. In any case, it requires planning and care. Think about the vegetables and flowers you have tended, this summer or in years past, and the time, thought, energy, and patience they required. Cultivating is not a simple one-time act—it is an ongoing pursuit that often hopefully yields a bountiful harvest.
As you consider your engagement with the congregation this year, I invite you to consider cultivating some new relationships. One look at the calendar and email announcements will help you find plenty of opportunities to socialize, learn, and act with other members of our community. Or perhaps you have an idea for a class or activity that you think others might enjoy. Are you ready to cultivate something new at UUC (like the Tarot workshop scheduled for November 9)? Or you might be ready to cultivate some new skills, particularly those needed to help support our new ways of meeting in person and online at the same time. We're still looking for volunteers to help with AudioVisual Tech on Sunday mornings.
As we consider cultivating new relationships, sometimes we need to let go of or change old ones. As you may know, our wonderful Director of Lifespan Faith Development, Karen Hager, and LFD Assistant, Rachel Craine, have decided it is time to leave their positions at UUC at the end of November. We will definitely miss them in these roles and are grateful for all the years they have given us. Their knowledge, creativity, skills, and commitment have created a strong LFD program that has continued to enrich the lives of children, youth, and adults, even through the pandemic. The LFD Committee and the Board will help us through a process of determining what we want moving forward and finding new people who will continue to build on their strong program. Karen and Rachel will continue to be part of our UUC community, and we look forward to cultivating new relationships with them.
In faith, Rev. Pam
Rev. Pam Philips was installed as our settled minister on April 15, 2018. Click here for photos of the celebration.