Message from Our Minister
Welcome to our website here at the Unitarian Universalist Congregation. I'm glad you are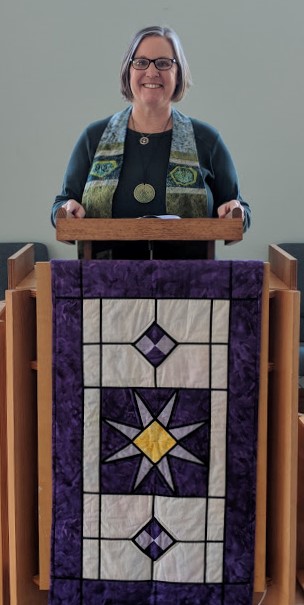 checking us out online.
Message for June 2022
As the church year ends, I'm grateful to be able to reflect on this month's worship theme – Celebrating Blessings. In the face of difficult and tragic news, it's good to remember all the goodness in our lives.
The month kicks off with our annual Flower Service — a time for celebrating all the blessings of this congregation. Whether in person or on Zoom, everyone is invited to bring flowers (and send photos) to represent the gifts we give and receive from one another. We are blessed by those who create worship, who serve as greeters and coffee makers, who maintain our beautiful grounds, who lead small groups, who teach classes for young and old, and by all those who participate in all we do. A former member who has attended two UU congregations in their new home said that UUC was so much livelier than they were. I agree! We are blessed by our vibrant congregation!
This Sunday, we'll also have our annual Congregational Meeting, electing new members of the UUC Board and passing the Board-proposed budget. This is an occasion when we can celebrate the blessings of those members who answered the call to serve the congregation – retiring President Bob Stimson, Secretary Stephen Henninger (who has continued on the Board even after moving to Salt Lake City!), and Members-at-large Mindy & Paul Quigley and Brandie Lemmon, and continuing members Gene Gardner (stepping up to Secretary), Treasurer Wayne Neu, and soon-to-be President Nancy Bodenhorn. It has been such a privilege to work with these folks as we navigated all the challenges of COVID. I also celebrate those who will join the Board – President-elect Fred Piercy, at-large members Rami Steinruck,
Laura Robinson, and Alyssa Short – and look forward to our work together. As we pass the budget, I'll also be celebrating the amazing generosity of this congregation (with late pledges bringing us up to $332,622) and the hard work of the Stewardship Committee, headed by Carol Kern (who has agreed to serve again next year!). Then there's the amazing time had by all at the spring auction, organized by Molly McClintock and Irene Peterson, supported by everyone who participated by donating, bidding & buying, and bringing food to share. We are so blessed!
We'll have sundaes out in the picnic area after the annual meeting to celebrate the blessing of Lisa Evanylo, who will be retiring as our administrator after 27 years. The congregation has been so blessed by her steadfast service, institutional knowledge, and ability to learn and grow throughout this time. I cannot imagine what it would have been like to start my ministry at UUC without her reliability, patience, humor, and care. But we are blessed that she will continue as a valued member and that she will train our new Administrator, Ericka Kelly, through the month of June. Let us take this time to thank Lisa and welcome Ericka. This will also be the last month our fantastic LFD team – Sara Catlett, Brandie Lemmon, and Alyssa Short – will bless us with their hard work and creativity before handing off the program to the capable hands of our new DLFD, Rachel Craine. We are truly blessed!
In the month ahead, I invite us to look for, acknowledge, and celebrate the blessings in our lives, but also recognize the blessings we give. In the words of Rachel Naomi Remen, "We are all born to be a blessing." Know that you are a blessing to UUC.
With gratitude and love,
Rev. Pam