Adults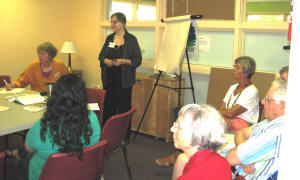 Classes, films, discussion groups, spiritual practice groups and online learning are just some of the opportunities for adults to deepen their faith development through UUC. Topics include world religion, social justice and UU identity. All adults over the age of 18 are welcome to any program.
Visit the UUC calendar for class dates and times. Download the LFD prospectus.
Adult Programs 2022-23
Transgender Inclusion in the Congregation
Help our congregation to be fully inclusive, and affirming of, the full breadth of gender diversity. Co-sponsored with the Welcoming Congregation Team. Learn more.
Discussion Groups
Join one of our many discussion groups. Learn more.
Personal Spiritual Practices
Learn or continue a spiritual practice to enhance your life. Learn more.
UUA Common Read
Check back for this year's UUA Common Read! Learn more.
Ongoing Adult Programs
Sunday Circle
Our bi-monthly discussion group on a wide range of topics. Learn more.
Anti-Racism Discussion Group
Our bi-monthly discussion group on racial justice and white privilege. Learn more.
Conversations on Our Faith
Our weekly book discussion group. Learn more.
Meditation Group
Start or deepen your meditation practice. Learn more.
Yoga
Join a yoga class at UUC. Learn more.