Adults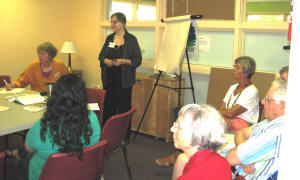 Classes, films, discussion groups, spiritual practice groups and online learning are just some of the opportunities for adults to deepen their faith development through UUC. Topics include world religion, social justice and UU identity. All adults over the age of 18 are welcome to any program.
Visit the UUC calendar for class dates and times. Download the LFD prospectus.
Adult Programs 2018-19
America Inside Out with Katie Couric
In this documentary series from National Geographic, Katie Couric travels the country to speak with people bearing witness to the most complicated and consequential questions today in American culture. Learn more.
Social Justice Film Series
UUC shows a different movie on the first Friday of each month on a pertinent social justice topic. Learn more.
UUA Common Read Discussion Group
Join our discussion of this year's UUA Common Read, Justice on Earth: People of Faith Working at the Intersections of Race, Class, and Environment. Learn more.
Ware Lecture
Join Rev. Pam in viewing and discussing the 2018 Ware Lecture, delivered by Brittany Packnett, a leader at the intersection of culture and justice. Learn more.
CSAI Workshops
Congregational Study/Action Issues (CSAIs) are issues selected by Unitarian Universalist member congregations for four years of study, reflection and action, so that congregations can combine efforts to make a difference. Join us for our workshop on each of the current two CSAIs: The Corruption of Our Democracy; and Undoing Intersectional White Supremacy. Learn more.
New (Or Not So New) to UU
Join Rev. Pam in exploring more about Unitarian Universalism. Learn more.
Personal Spiritual Practices
Start your New Year off with a new spiritual practice. Learn more.
Becoming a Member
Learn more about becoming a member of UUC. Learn more.
Additional Adult Programs for the 2018-19 year will be announced throughout the year.
Ongoing Adult Programs
Sunday Circle
Our bi-monthly discussion group on a wide range of topics. Learn more.
Anti-Racism Discussion Group
Our bi-monthly discussion group on racial justice and white privilege. Learn more.
Conversations on Our Faith
Our weekly book discussion group. Learn more.
Meditation Group
Start or deepen your meditation practice. Learn more.
Yoga
Join a yoga class at UUC. Learn more.