Arts at UUC
UUC supports art as an important component of the life of members, friends, and the broader local community. Art is an expression of the human spirit. Art often touches viewers in a deep and significant way and can provide experience of mystery and wonder, which is one source of insight for Unitarian Universalists.
The Committee on Visual Arts usually organizes art exhibits at UUC for the benefit of area artists and the appreciation of those using the Meeting House. If you're interested in displaying your art at UUC, please contact Denise Martin.
New Artist: Tom Barnhart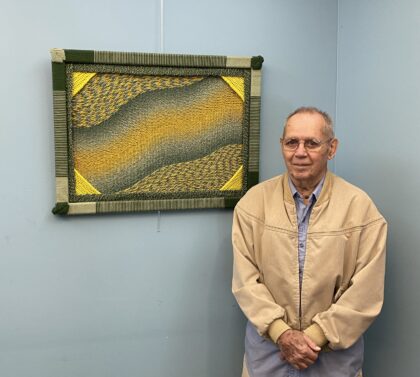 I am retired from the U. S. Navy (Chief Aerographers Mate, aka weather guesser), from teaching, computer tech support and a few other things. I began knotting as a hobby while in the Navy in the late sixties. Since my work in the Navy had little to do with knotting I am pretty much self-taught – relying on a variety of books and the internet as sources of information.
I do decorative knotting. I find working with the interaction of pattern, texture and color challenging and satisfying.
My work originally consisted of traditional nautical knotting on bottles, vases, and other objects using cotton or jute twine. I later began doing framed work using frames covered with cotton or jute and filled in with a variety of hitching and attached knot work. Recent work consists of similar frame work covered and filled using hand twisted cord (made from colored yarn) twined on horizontal, vertical, diagonal or multiple warps.
My goal for both covered objects and frame work is to discover something visually interesting.
I also do poetry from a previous farming life and notecards (scenic & kaleidoscopes) from photographs of knotwork and whatever else I find interesting.
Hope you enjoy the work as much as I enjoyed doing it.
Tom has graciously offered to donate the proceeds from any sales to UUC.
Please contact Denise Martin if you are interested in purchasing any of Tom's art.