Visiting Us
We hope that you will visit us at Unitarian Universalist Congregation (UUC) in Blacksburg. All are embraced here—wherever they may be on their religious or spiritual journey. Our church is a home to seekers—a sanctuary free from dogma and creed, where all may explore, together, the great questions of this life we share.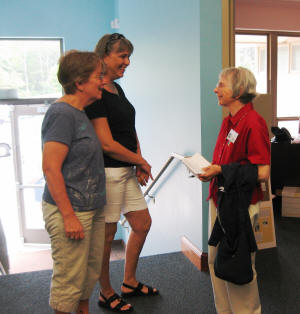 Visitors often ask, "What is Unitarian Universalism?" We are an inclusive religion which teaches us that we're all connected, and thus, it behooves us to treat one another with respect and dignity—in other words, to treat others as we ourselves would be treated.
The Sunday service is at the center of our life as a Congregation. This is a sacred time for us as we gather to reflect on the values that we share, to rejoice in the goodness and beauty of life, and to consider the challenges that we face as individuals and as members of the global community. The topics that are addressed in our services vary widely, but the themes of love, hope, compassion and action in the world are lifted up through words, music, and growing connections within the Congregation.
Each Sunday at UUC, we offer a worship service for adults, age-appropriate Sunday school for children and youth, stimulating conversation, and lively community. Throughout the month, our activities include discussion groups, meditation, adult enrichment classes, potlucks, yoga, a labyrinth, and more.
Please visit our Frequently Asked Questions page for more information about UUC and Unitarian Universalism.