RE Program
Register for 2023-24 LFD Programs
The goals of the RE program are: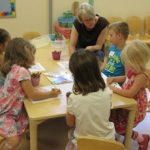 To encourage children in the development of their own UU identity
To encourage spiritual growth
To provide religious literacy
To encourage a social conscience
There are five themes that are reflected within the RE curriculum:
UU identity
Jewish/Christian heritage
Religions of the world
Social responsibility
Concepts of God
---
Registration
Registration is required for every child, every year. Registration forms for new children are available in the RE office or online. Returning children will receive registration information prior to the fall semester via email. Register online.
Sunday Mornings
On most Sundays, children begin in the Sanctuary with parents for the first 15 minutes of the service. After "For All Ages", the children and their teachers leave for their classrooms. RE classes last approximately one hour. Parents should pick up their children at the end of class time.
Visitors
We welcome young guests in our religious education classes on Sunday mornings. We ask that a Visitor's Form be completed by the adult responsible for the child. To enroll in the RE program, please fill our a Registration Form, obtainable from the DLFD or RE teacher.
Transitions
We know that it can be difficult for some children, particularly those who are younger, to feel comfortable in a new place, Parents are welcome to accompany their children to class for the first few visits to ease the transition to separation.
Safety Policy
All teachers and advisors involved in ongoing work with minors are required to pass background and reference checks, per UUC policy. Two adult teachers will be present in each classroom during regular RE classes.
Children's Offering
Our Children's Offering benefits the Interfaith Food Pantry. Donations of canned goods and cash will be accepted in class. All parents are encouraged to have their children participate in supporting this worthwhile organization. Learn more.
Download a copy of the Lifespan Faith Development Prospectus.