Fundraising
Fall Online Goods Auction: October 31-November 14
Once again due to Covid-19, we are holding our Fall Fundraiser/Auction online. We hope to gather in person in the spring for a live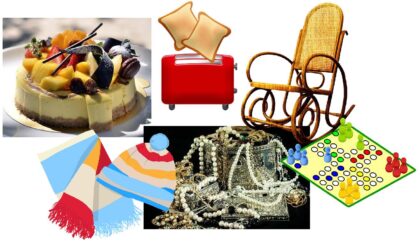 auction featuring dinners, events, and parties.
To help make this a successful auction, we need YOU to donate and purchase items. Please submit your auction donations or monetary contributions NOW via this link. We are focusing on tangible items (food, art work, gift baskets, gift certificates, furniture, counter-top appliances, tools, jewelry, clothing, books, toys, games, etc.). The bidding will begin on October 31 via this link and run for just two weeks until November 14. As before, you will arrange for pick-up or drop-off of your donations or purchases. If you have questions or need assistance listing your donations, contact Irene Peterson. THANK YOU for contributing to another successful auction fundraiser.
Kroger Community Rewards
Shop at Kroger? Earn rewards for UUC (5% of purchases) each time you use your Kroger Plus Card at the checkout provided that you have registered online and designated UUC as your selected organization. To do so:
1. Go online to https://www.kroger.com/communityrewards.
2. If you already have a Kroger account, simply login. If not, you will be asked to create one.
3. When you are logged in, choose Community Rewards in the sidebar.
4. When asked to select the organization to receive your rewards, enter Unitarian Universalist Congregation (then pick our specific congregation from the list) or organization number KJ073.
5. Now, every time you shop at Kroger, be sure to use your Kroger Plus Card.
Order from Amazon

Purchase from Amazon via Amazon Smile and raise money for UUC – all at the same time – and with no extra costs to you.
To sign up, go to smile.amazon.com, sign in with your Amazon login info, find and select "Unitarian Universalist Congregation of the New River Valley" as your charity of choice, and then use smile.amazon.com to sign in to Amazon every time you shop. Amazon will donate a percentage of your purchase to UUC. Why not bookmark this link?
Amazon.com is not endorsed by Unitarian Universalist Congregation. The link to smile.amazon.com is provided here for your shopping convenience and to provide a creative way for our church to raise additional funds.
Selling on eBay
If you have possessions such as antiques, old jewelry, coins, shoes, photography equipment, etc. that you no longer use, consider donating them to the UUC for sale on eBay through our dealer, AJ's Antiques and Art Gallery in Christiansburg. AJ will research the value of each item and post it on eBay as long as the value of the item exceeds $10. If the value is lower, items will be bundled to achieve that $10 cutoff. Once the item sells, you will receive a receipt for the amount that can be used as a charitable-gift tax deduction. Bring your items on a Sunday and leave them with our Administrator. For more information or to have items picked up at your home, contact Linda Powers.