Growth Through Service
The only ones among you who will be really happy are those who will have sought and found how to serve.

~Albert Schweitzer
UUC Conversation Team Members
Earle Irwin Jamie McReynolds Sara Dalton
Steve Keighton George Lally Jane Mahone
To contact the GTS team, email GTS@uucnrv.org.
How the GTS program works:
Service is a cornerstone of Unitarian Universalist identity, and of UUC membership. Through service, not only do we play our part in healing our broken world, but we also find the opportunity to grow our own faith and spirituality, and to enhance our relationships with others.
The Growth through Service (GTS) program enables UUC to better bring service opportunities to you, our members, that are fulfilling, feed your passion, and grow your soul. We hope you can joyfully serve, gaining a deeper connection to your faith and our church.
Attend a Conversation with a GTS team member, one-to-one, as a couple or with a group, to explore your spiritual journey and the role of service in your life.
Consider service opportunities that match your interests, skills and available time, using the Open Service Opportunities list [coming soon] or suggestions by the GTS team.
Take on an exciting service opportunity helping others, for personal and spiritual growth and share your experiences with the GTS team. Questions? Contact GTS Coordinator
---
Want to offer a service opportunity?
Fill out the online form (coming soon) to have it posted on the list of open service opportunities.
---
Other Useful Links:
Growth Through Service brochure – coming soon
Growth Through Service video – coming soon
---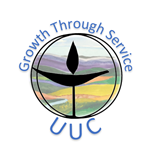 Statement of Theological Grounding:
As Unitarian Universalists, we live out our faith through our service to others. True spiritual growth, in ourselves and in our congregation often arises through our connectedness with others and through serving a higher purpose that is greater than our own individual needs.