Re-opening Survey Results
In the spring of 2021, congregants were asked to participate in a survey expressing their views about attending in-person services and activities in our building now that many of us are vaccinated against Covid. Below are the results of that survey.

The Board is very appreciative of all the responses to the survey regarding our reopening. There were 108 respondents, reporting on 230 household members. What was very apparent in the responses was the respect for others' situations and needs. The survey results provide valuable information for the Board, as we move toward in-person services.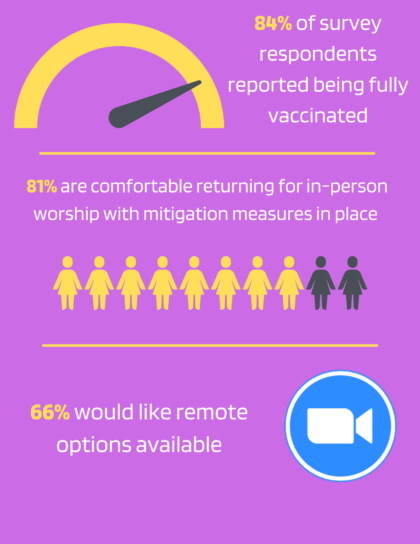 By early June, 84% of household members were vaccinated (a number expected to rise to 90% within 3 months). The remaining household members were likely too young or have medical conditions preventing vaccination.
12 households reported members who had a higher risk for severe illness than the average population.
At the time of the survey, respondents indicated a higher comfort level for attending in-person services with mitigation measures (masks, social distancing) than without any measures. They said they would feel even safer for their family members as certain milestones occur (higher vaccination rates, government agencies easing restrictions, community spread consistently at a low level, etc.)—in other words, a phased approach as conditions improve.
Most people wanted to keep Zoom services available even after the return to in-person services. It would be useful for those with health issues, and for weather, travel, and other factors. Zoom could also be used for certain meetings and events. It helps provide equal access for all members.
When asked to share specific comments and concerns, the most frequent responses included:
Keeping young children safe (not eligible for vaccinations yet, holding classes outside, handling the nursery).
Specific technical and procedural issues (ventilation, singing, socializing before and after the service, social distancing leaving enough space for everyone who wants to attend).
Visitor precautions and procedures (for their sake and for congregation members).
Clear communication to avoid confusion as things change and evolve.
Respondents recognized that individuals have diverse views on safety and risk and isolation has caused mental health issues for some people who need community and support.
Everyone appeared willing and eager to work together responsibly for the good of all.